measX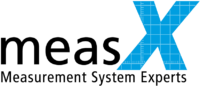 About measX GmbH & Co. KG:
measX is a recognized specialist for test bench technology and test data management. For 40 years, the company has been developing, manufacturing, and selling customized test systems for research, development and production. Well-known companies from the automotive and mechanical engineering industries as well as the chemical, electronics and energy sectors rely on measX's technological competence and expertise.
The focus within test bench technology is on automated measurement and test systems, retrofitting, in-house tailored electrical connectivity, and pre-conditioning solutions as well as developing and building specialized measurement equipment in small series. measX is a proven LabVIEW specialist and main distributor of the "easy-to-use" metrology software DASYLab. In the area of test data management, measX creates data management applications and evaluation systems that help customers to make comprehensive use of acquired test data and therefore informed decisions. The in-house developed data management and analysis software X-Frame can be used across industries with all kind of data.
The X-Crash analysis system from measX is the world's leading software for evaluating vehicle safety tests and a binding standard of Euro NCAP. X-Zero is the analysis tool for testing active vehicle safety systems. The MOSES software specializes in vehicle dynamics tests.
At the company's locations in Moenchengladbach and Aachen, more than 60 employees work for customers in Germany, Europe and beyond.
measX is a long-standing Platinum Alliance Partner of National Instruments, an active member of committees such as AMA Fachverband für Sensorik e.V., ASAM e.V. and the Arbeitskreis Messdatenverarbeitung Fahrzeugsicherheit (MDVFS). As a partner of universities and colleges, measX sees itself as a bridge builder between research and industry.
"ADAS IIT-Innovation In Test" a collaboration between measX and three other companies, leverages the partners' expertise in advanced driver assistance systems (ADAS), sensor fusion, hardware-in-the-loop (HiL), V2X communication, GNSS simulation, and data management to provide one-stop solutions for testing the development of autonomous vehicles.