Hottinger Brüel & Kjær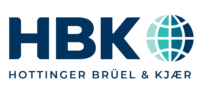 About HBK – Hottinger Brüel & Kjær
Hottinger Brüel & Kjær (HBK)'s testing and measurement solutions give engineers around the world the accurate, up-to-date data they need to bring higher-quality products to market faster.
HBK bridges the physical and virtual worlds with robust, flexible hardware and precise, powerful analytics software. Giving design, test, and measurement engineers complete confidence in every reading and every data-driven decision – across the entire product development lifecycle.
Backed by decades of experience and deep expertise, HBK's sensors and software transform testing and measurement in a huge range of use cases, from building more aerodynamic aircraft to testing the safety of automotive vehicles, and monitoring assets throughout their production cycle.
HBK empower the innovators by providing exceptional sensing and insights to help create solutions for a cleaner, healthier and more productive world.