Tuesday, June 5, 2018: With more than 400 exhibiting companies covering 25,000m² across halls 8 and 10 of the Stuttgart Messe, the 20th edition of Automotive Testing Expo Europe, which opened today (June 5) and goes on to Thursday, June 7, is playing host to more exciting announcements than ever before.
The story of the day came from sound and vibration test and measurement specialist Brüel & Kjaer (Hall 8, stand 8140), which announced that it is to merge with fellow Spectris Group stablemate HBM. From January 1, 2019, the new company will be known as HBK (Hottinger, Brüel and Kjaer).
Udo Gohier, vice president – automotive, Brüel & Kjaer, commented, "The aim of the merger is to create a new business with the capabilities, breadth and scale to deliver more cost-effective and optimized test products in the domains of propulsion, durability, safety and noise, vibration and harshness."
"What you see here at our booth is the first visual presentation of the new HBK strategy," added Gohier. "As a result of this merger we will be able to meet the need for increasingly integrated test solutions that meet the growing digitization trend that the industry is seeing right now."
In preparation of the merger, a new management team consisting of experts from both companies has been selected, and merger preparation activities will be undertaken from now through to the end of 2018. During this phase, both companies will operate in existing structures and all existing agreements, points of contact, procedures and partnerships will continue as normal.
Elsewhere on the show floor, German proving ground ATP – Automotive Testing Pappenberg (Hall 10, stand 1108) shared details of its plans for the construction of a brand-new US$10.5m wet handling track due to open in April 2019.
Set to be 1.8km in length and 8m wide, the new wet handling track will replace the existing one, which, according to ATP's technical director Klaus Vosteen, "is no longer sufficient for our clients". While the existing track will still be used for industrial testing and driver training, "the new track will be faster and have more uneven bends and curves than the current one, which is better for tire makers looking to perform brake tests".
The new track will use fresh water drawn from a well located 40m below ground. According to Vosteen, this system will ensure "the water used to wet the track possesses the same repeatable conditions every time – including the same temperature and chemical properties".
Construction of the new test track has yet to begin as ATP are waiting on German authorities to confirm the build, however work on the track's asphalt is tentatively scheduled to begin in September/October this year.
More news announced on the first day of the show came from Millbrook (Hall 8, stand 8140), whose president Alex Burns discussed several key investments being made by the company, not only to its UK proving ground but also to its affiliated winter tire test facility in Finland, Test World.
"We're currently building a first-in-the-world tarmac platform at Test World that should be ready for use this October and is now available for pre-booking," revealed Burns. At 410m in length, the asphalt track and air above it can be maintained at different temperatures to better reflect common real-world conditions and will enable tire manufacturers and vehicle manufacturers using tires to do brake tests on black ice or in icy conditions during the summer months in Europe.
"We're also trying to get ahead of our customers' requirements in terms of battery testing, down to the full vehicle pack, so we're building 12 battery test cells – which is six more than we initially announced – that will be used for durability testing and environmental testing of electric vehicle-scale battery packs," said Burns. "While we can already do most of the reg. 100 tests needed to sign off a battery, these new cells will be supporting OEMs as they develop the large batteries going into plug-in hybrids and full battery electric vehicles."
According to Burns, construction of the 12 test cells represents "the single largest investment under the Millbrook banner since the proving ground was built". Due to be completed by the end of the year, these cells will be followed by construction of a full powertrain test rig, including a second 4WD climatic chassis dynamometer for emissions testing.
Meanwhile, Apicom (Hall 10, stand 1336), an ICM Group company from Italy that provides test benches and test cells for car, truck, motorcycle, engine and transmission manufacturers, announced key acquisitions in Germany and the UK, as well as a joint venture in China.
Among the newly acquired assets are British company Dynamometer Services Group (DSG), a provider of test bed controllers and dyno overhauls, of which Apicom now has the majority share (60%); and BETA Dyn, a German developer of test benches and dynamometers, of which Apicom now controls a 75% share.
"This structure gives Apicom the capacity to work as a global team and the flexibility of autonomous legal entities," said CEO Stefano Borghi, before sharing details of the company's JV in Chongqing, which was created by Apicom and two former employees of the company's branch in China. "This new reality demonstrates our determination to invest and grow in China." Apicom holds a 60% stake in the JV.
Finally, Applus Idiada (Hall 8, stand 8313), the Barcelona-headquartered testing and homologation service provider, spoke of its recent acquisition of KARCO Engineering, an independent crash test laboratory and automotive research center based in Adelanto, California, USA. The deal follows 10 years of cooperation between the two companies.
"The acquisition of KARCO and its integration within Idiada USA Busine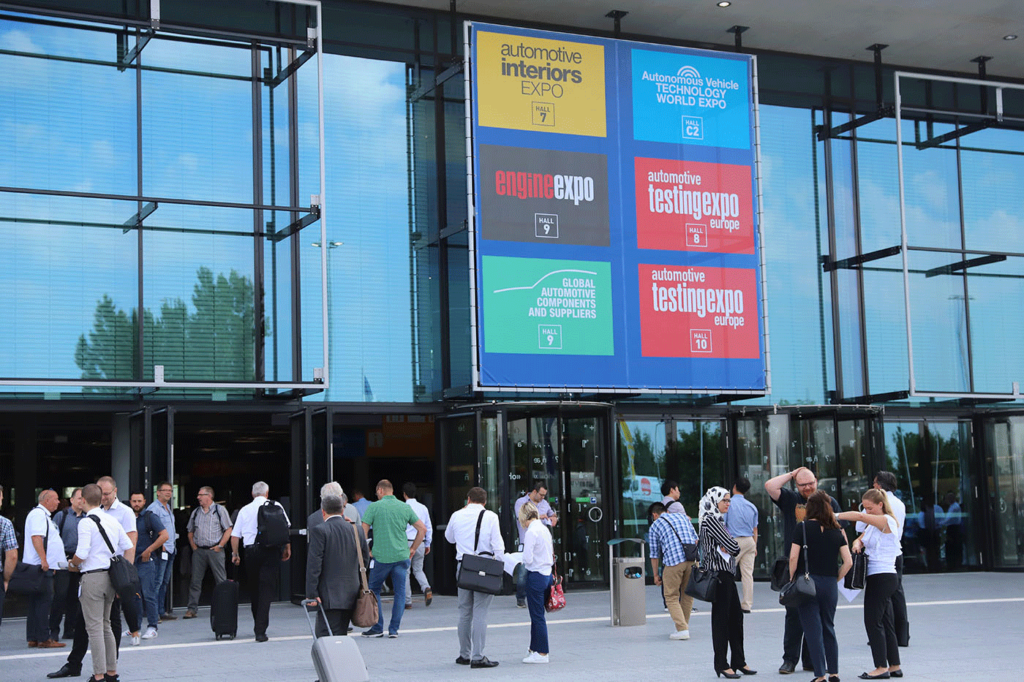 ss Unit is an important step forward in the company's strategy to expand its geographic reach by strengthening its position in the USA, especially in the fields of active and passive safety testing engineering, according to US requirements," said Michael Dunlap, director of operations."
Early visitor feedback
Meanwhile, exhibitors and visitors to Automotive Testing Expo Europe 2018 are already united in their praise of the diversity of products on display, as well as the networking opportunities the show presents.
Johannes Montag, head of engineering and sales at Poppe + Potthoff, said, "It's the ideal show for us to meet the right contacts – particularly with our existing customers because we don't have regular contact with them. It's a platform to discuss their needs and the latest trends. We've had fruitful discussions with a few people about new projects in the pipeline."
Andreas Schlipf, application commercial manager for first-time exhibitor Rockwell Automation, which is showcasing new robotic end-of-line test systems for car seats, was impressed with the amount of interest the company has already garnered: "This is our first time to the show and the main goal is to gain more visibility in the German market. We've already held talks with one of the major German OEMs, which is very encouraging for the days ahead."
Dennis Marcus, commercial manager for simulator manufacturer Cruden, was pleased with the number of visitors from the Asian automotive market interested in simulator systems for testing of ADAS and autonomous vehicle functionality: "These are increasingly important development areas in Korea and China and we've met many visitors from those countries, including a manufacturer of car seats and a company that develops controllers for headlights, which are vital for ADAS; both two interesting applications for us."
Visitor Sébastien Arroyo, investments section manager at Jtekt Europe Technical Center, said, "Almost all the providers of testing solutions are here. I'm here to find new suppliers of test benches for analysis of steering systems and so far I've already seen a lot of interesting technologies."
"I travelled from Japan and it is difficult to get information on the needs of the European market, so it's the perfect place to identify new trends and technologies," added Sou Nakamura, an NVH engineer from Honda. "I've been particularly interested to see all the latest microphones and accelerometer systems as well as chassis dynos and shakers."
First time visitor Jakub Dvorak, a test engineer at TUV SUD Czech, was impressed by the breath and width of testing technologies on display: I'm focused on the physical testing of autonomous vehicles and one technology that caught my eye was a vehicle moving platform. It was also interesting to see Vehico because I didn't realise that they would be exhibiting here."
Day 2 of Automotive Testing Expo Europe 2018 opens at 10:00am (CET) and will close at 6:30pm (CET). A free-to-attend drinks party from 5:00pm to 16:30pm will be followed by a very special invitation-only gala dinner celebrating 20 years of the world's largest automotive test, evaluation and quality engineering event.
To register for your free fast-track entry code, click here.