Automotive Testing Expo Europe is maintaining momentum – here are some more of today's highlights…
Flexible, modular data acquisition system for hydraulic motion platforms
') } else { console.log ('nompuad'); document.write('') } // -->
') } else if (width >= 425) { console.log ('largescreen'); document.write('') } else { console.log ('nompuad'); document.write('') } // -->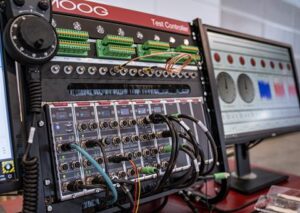 Moog is displaying its next-generation test controller at the expo, developed to help test lab managers unlock a greater volume of data from test specimens. The test controller can be configured with between one and 32 channels and is a real-time modular system, capable of controlling and collecting data from any hydraulic or electric test system.
"We have enhanced our portfolio to give customers who want it the capability to do basic data collection. We supply high-precision motion control systems and the reason you use those is to be able to capture data. We have analog and digital interfaces, the system is modular and we provide feature-rich software with it – there are no hidden costs on that front," explained Jasper Knol, technical sales engineer at Moog. He added, "We are using proven technologies and our latest system is based on our experience over 20 years. We currently offer 32 logging channels but expect that in the future we will offer more."
Among the new features that Moog has added this year are more advanced control algorithms, revised data analysis and viewing tools and a more flexible hardware interface.
The test controller product family incorporates a wide range of modules for high-precision control and collection of data and providing alternative control paths. The test controller offers manifold control for pressure in hydraulic systems along with closed-loop control of servohydraulic systems using actuation with force and/or position feedback.
The product family also includes a General-Purpose Input/Output Unit (GPIOU) that provides eight differential analog input and output channels as well as 16 digital inputs and outputs. It also features a built-in kinematics module that provides degree-of-freedom control of hexapod (or other orthogonal) configurations to improve control of legacy or new simulation tables.

Articulated pedestrian target with a realistic sensor signature for radar, lidar, IR and camera-based systems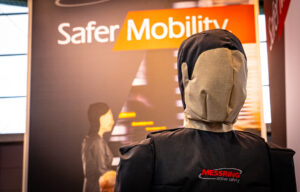 Messring is presenting its latest development in the field of active safety at the expo. The company's Astero articulated pedestrian adult target replicates a 50% male adult in terms of size, shape, realistic sensor signature and leg articulation while complying with all the specifications laid out in the NCAP and ACEA guidelines as well as the ISO 19206-2 standard.
The sensor signature is realistically reproduced for radar, lidar, camera, infrared and ultrasonic sensors simultaneously. The target has a soft, lightweight structure but is designed for collisions up to 60km/h. The movement of the legs generates a micro Doppler effect and with an ISO 19206-2 compliant connection, the target is compatible with all common carrier systems. Control and activation of the leg motion is achieved via an IP-based interface and offers quick selection of walking speeds of 3, 5 and 8km/h.
"With the Astero, we have demonstrated how test sites can get closer to the real world and VRU testing can take the next step beyond existing protocol requirements. With the Articulated Pedestrian Adult Target we now also want to provide test engineers and users with an option that is in line with the requirements in the current test protocols and convinces with the usual quality and reliability of Messring equipment," explained Dr Igor Doric, executive director of Messring Active Safety.

On show: Visual measurement systems to assess stress and deformation in vehicle structures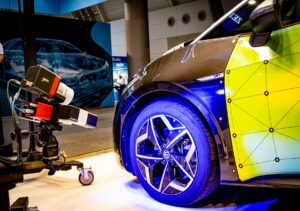 Zeiss is exhibiting its range of camera-based measuring solutions at the expo, including its GOM Aramis system, which uses 3D cameras for surface measurement. The camera system and associated analysis software provide information on material characteristics and the behavior of components under load. These results form the basis of product durability, geometrical layout, reliable numerical simulations and their validation.
Tom Jericho, applications engineer for GOM, explained that the system has a variety of uses in automotive. For example, as shown on the demonstrator vehicle at the expo, panel deformation of components such as hood and doors can be measured when they are closed or opened, helping to correlate simulation results with real-world performance. Furthermore, the system can be deployed to measure factors such as the aeroelasticity of surfaces in the wind tunnel, checking the level of deformation at speed. Finally, coupon samples in test rigs can also be measured, providing an invaluable extra layer of data for analysis.
Jericho noted that the Aramis sensors measure statically or dynamically loaded specimens and parts by using a contact-free, material-independent method based on the principle of digital image correlation (DIC) – without time-consuming and expensive preparation of the test object.

EV charging communications testing according to ISO 15118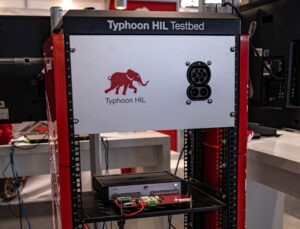 Typhoon HIL is highlighting its new capability that helps vehicle and equipment developers get to grips with the testing of electrified vehicle charging communications. The Typhoon HIL toolchain now enables testing according to the ISO 15118 protocol, one of the four major global communications standards in place. According to CTO Dusan Majstorovic, the solution provides a comprehensive environment to assess all aspects of EV charging communications – including vehicle-to-vehicle, vehicle-to-grid and vehicle-to-road – in one package. This competency is becoming a necessity for all automotive manufacturers as e-mobility technology shifts to take into account new energy requirements.
Majstorovic added that Typhoon HIL has had some fruitful discussions at the show regarding its technologies and how it can work with partners strategically: "The expo is a good opportunity to speak with partners with which we can create value; to grow as a company it is important to look at ways to work with others in a similar field to make system solutions, then getting customer feedback is the next step. We have spoken with some companies that are seeking ways to develop business models together with us."