Innovation and announcements were still flowing on Day 2 at Automotive Testing Expo 2022 in Novi, Michigan. Here are a few highlights…
') } else { console.log ('nompuad'); document.write('') } // -->
') } else if (width >= 425) { console.log ('largescreen'); document.write('') } else { console.log ('nompuad'); document.write('') } // -->
Honda introduces its HALO wind tunnel facility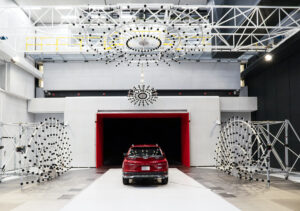 Day 2 of Automotive Testing Expo saw Honda Development & Manufacturing of America speak to visitors about its brand-new Honda Automotive Laboratories of Ohio (HALO) wind tunnel facility, located on the grounds of the Transportation Research Center in East Liberty, Ohio.
A key feature of the new wind tunnel is that it allows engineers to conduct testing and research in the areas of aeroacoustics and aerodynamics (passenger vehicles and motorsports/racing) in the same facility. Chris Combs, wind tunnel business strategy lead, was keen to reveal the wind tunnel's advantages, "This facility has the capability of bringing all teams under one roof for efficiency and collaborative efforts. Instead of traveling to multiple facilities around the world, we offer the convenience of one location with the expertise of each focus area, from aerodynamics to aeroacoustics."
The wind tunnel has a top speed of 310km/h, enabling it to support both passenger vehicle and racing programs. With its acoustic environment of <57dBA at 140km/h, engineers can measure, analyze and identify noise sources that directly contribute to the passenger experience. Combs elaborated, "We offer any type of testing where a uniform and repeatable wind source is valuable in your product's design and innovation. This includes, but is not limited to, aeroacoustics, aerodynamics, structural strength and CFD correlation. The potential is incredibly broad." He added that the rapid test iteration allows the team to quickly identify the design direction to meet the program's target performance.
Combs continued, "Wind tunnel testing is present throughout the entire product development cycle for production vehicles. From full-size clay model design iteration to confirming that manufacturing variance is meeting your company's requirements, we are able to support all aspects of product creation. The same applies to motorsports. From the fundamental design that all supported teams will use to minor iterations needed throughout the season on an individual team basis, wind tunnel testing is integral for delivering a win for both consumers and race teams."
Mike Unger, HALO wind tunnel lead, echoed Combs, "The auto industry has a lot of opportunity on the horizon and we have an amazing tool [HALO wind tunnel] to embrace what lies ahead."
"Having been to Automotive Testing Expo in past years, we've seen it's a great venue where engineers are looking for the latest technology and capabilities to help bring their creations to market with confidence," Combs revealed. "Knowing this, we wanted the industry to be aware of a tool available in Ohio that will help them do exactly this."
HALO features in the September issue of Automotive Testing Technology International. Mike Unger, who heads up the wind tunnel facility, was recently shortlisted for Person of the Year at the ATTI Awards.
"2022 has been a great year as we steadily ramp up our operations," said Combs, live at the expo. "The advanced product development and manufacturing quality teams have been leveraging the tunnel's aeroacoustics capabilities since May.
"Our aerodynamics racing and consumer product development teams have come online this fall. With every day and every test, we are learning key ways to be more efficient while maintaining a high level of data quality. The HALO team refuses to settle for good enough as we continue to grow into the capabilities our wind tunnel has."
Booth 10038
Rohde & Schwarz showcases multiple applications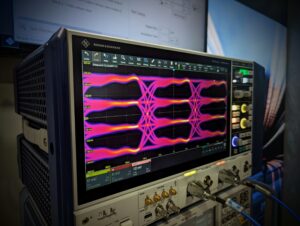 Rohde & Schwarz is sharing innovations in several automotive application areas – wireless connectivity, radar, UWB, EMC/EMI testing and CV2X.
According to Ram Mirwani, business development manager at R&S for automotive, the company provides automotive manufacturers, components suppliers and test houses with innovative, cutting-edge solutions which bring realistic test scenarios from the road to the lab and the production line.
The new R&S AREG800A Automotive Radar Echo Generator is on display together with the R&S QAT100 advanced antenna array. The solution highlights how to test automotive radar sensors to generate realistic driving scenarios for HIL and VIL tests.
Rohde & Schwarz is also demonstrating its new Automotive Ethernet compliance testing solution using its new RTPB oscilloscope (pictured). Mirwani explained the setup on display in an interview: "In our live demo, we are analyzing Automotive Ethernet via a live eye diagram, not a static snapshot, and this allows you to see real-time interference on your signal." He added, "The user interface is very important here as an interactive tool, showing you what's really going on in real time for debugging. Our live eye diagram is unique and not offered by others."
The automotive radar testers, systems and software from Rohde & Schwarz make it possible for component suppliers and vehicle manufacturers to develop robust, next-generation automotive radar, ensuring reliable and precise operation even in demanding environmental and RF conditions.
"We wanted to exhibit here because it is a nucleus for automotive efforts. We want to participate and engage with the industry based here with our holistic testing message that covers a range of applications performed on our platform, compliance, performance and EMC testing, and HIL testing amongst others. We have many levels of test capability that we want to showcase to visitors."
Booth 4022
UTAC shares info on its new UK battery testing chambers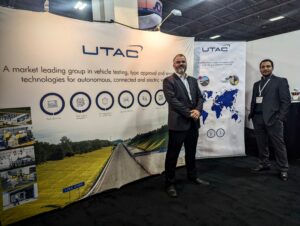 UTAC is at the show to share with the North American market the expansion of its battery testing laboratory in its UK facility.
According to company representatives, the construction of two additional chambers is in response to growing customer demand and the continued development of the electric vehicle market in Europe.
The two new battery test chambers will complement the existing test facilities at Millbrook Proving Ground and will be commissioned by the end of this year. The 12 existing test chambers are already fully booked until December 2022.
In May 2020, UTAC announced the creation of a new automotive test center in Oued Zem, Morocco. This saw its first customers in 2021, who, according to UTAC, explored the tracks, buildings and workshops designed to meet the challenges of reducing CO2 emissions, reliability, type approval and safety for all types of road vehicles.
The new center deploys all UTAC's recognized expertise and know-how and provides customers with all the hospitality, accommodation and logistical infrastructure necessary for an outstanding welcome, in a perfectly secure environment, 24/7.
UTAC chose Automotive Testing Expo North America to present its very wide range of activities and capabilities for the global mobility market. With laboratories and proving grounds in the USA, Europe and in Africa, UTAC can meet all its international customers' needs and requirements, in testing, type approval, regulatory expertise, simulation, cybersecurity, connectivity and many others.
Booth 7038
Dewesoft showcases Sirius UNI amplifier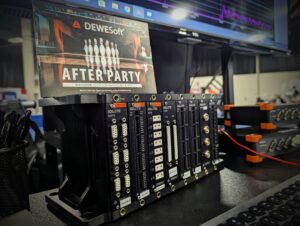 On Day 2 in Novi, Dewesoft has been explaining the features of the Sirius UNI amplifier.
Dewesoft's Sirius DAQs are among the most adaptable and accurate measurement systems on the market, combining limitless flexibility with impeccable signal quality. From road load data to brake noise testing, Sirius is a one-stop solution that offers a reliable, high-quality, easy to use solution for almost every test case.
Dave Gallop, business development manager at Dewesoft, explained, live at the show, "With many measurement systems it is hard to say there is a one-stop solution that can easily interface with the myriad of sensors there are available today. The UNI makes it possible to add sensors that traditionally required dedicated conditioning into a single device designed to add an additional level of flexibility without sacrificing signal quality."
Measurements typically require compromise, be it low amplitude resolution or higher-level signal transitions. Gallop continued, "Rarely do you find a measurement device that can measure, for example, nanometers and kilometers at the same time. The Sirius offers a unique technology in the form of its DualCore ADCs which do – and without the compromise – then transparently combines them into a single series."
Speaking about the expo, Gallop said, "Our experience with Automotive Testing Expo is based on our experience of being there; we realize and have seen that it is broadly attended by leading engineers and developers from all avenues of automotive test and development. Almost all are seeking out the latest time- and cost-saving approaches to their tasks and we want them to see that Dewesoft is all about those factors: time and cost saving! The ease of use and flexibility save time and cost savings happen because the project is completed sooner!"
On the company's way of working, Gallop revealed that "Dewesoft believes that the tools engineers and developers use should be described and defined by them. We strive to spend as much time listening as we possibly can, and from this we design and develop the tools that will ultimately make their lives better. Innovation is based on listening and understanding users' and potential users' needs, and Dewesoft believes that is our mission: to listen, understand and innovate."
Booth 13012
Link Engineering showcases its browser-based Laboratory Information Management System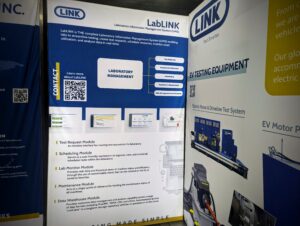 Link Engineering is at Automotive Testing Expo to showcase LabLINK, a dedicated solution for organizations to manage their testing process.
In an interview, Jerry Curtis, the company's VP of software and controls, explained LabLINK's key features, represented in the main modules: "LabLINK features a Test Request module or intuitive interface for creating test requests in the laboratory; Scheduling module, which serves as a user-friendly mechanism to organize, view and control all scheduled tasks within the laboratory; Lab Monitor module for real-time and historical views of machine status and efficiency through the use of customizable charts that can be created on the fly or saved as favorites; Maintenance module, which acts as a single point of reference for tracking the maintenance status of all machines; and Data Warehouse module, providing extensive data management and analysis capability across a range of data formats including Prolink, TDMS, CSV and others. It can automatically archive 'cold data' to a long-term storage repository whether on premises or in the cloud.
"Additionally, the Quality module provides a means for users to ascribe a quality state to a completed request. This provides the inputs necessary to review the various means for unanticipated test failures, providing lab staff with the ability to identify and address such testing outcomes."
Curtis continued, "LabLINK is differentiated in several areas: all LabLINK development is performed in-house by Link employees based out of our Plymouth, MI headquarters facility; LabLINK is multilingual out of the box; and LabLINK's application programming interface (API) is available to customers to extend their LabLINK deployment and to integrate with other legacy systems in use in their organizations."
According to Curtis, "Link has long attended the Automotive Testing Expo due to the tremendous value it brings in both meeting new contacts and reacquainting with existing contacts. Featuring LabLINK in an environment focused on the testing industry provides Link with the best opportunity to showcase our capabilities to a targeted audience of industry professionals. We are looking to make contacts with others in our industry who are now facing the challenges we saw many years ago when we began development of LabLINK. Essentially, any company who is currently using in-house, legacy or otherwise inefficient means to manage their test operations will find merit in LabLINK, and we'd appreciate starting a conversation with them."
Booth 4011
Monolith reveals new AI software applications for mitigating fuel 'sloshing' noises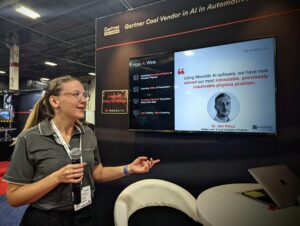 Monolith, a leading AI software provider for top-tier automotive, aerospace and industrial engineering teams, has announced live at the expo the results of its collaboration with Kautex, a Textron company and top 100 global automotive supplier, to solve one of the latter's most complex engineering challenges.
According to Dr Richard Ahlfeld, CEO at Monolith, the company has used its highly intelligent AI technology to enable Kautex-Textron to solve one of its most complex engineering challenges: mitigating fuel 'sloshing' noise. He explained that instead of using complex physical equations, Kautex-Textron's engineers taught Monolith's AI modeling technology to predict real-world test results with a high degree of accuracy.
"This process removed the need for Kautex-Textron to conduct a series of expensive, time-consuming and complicated physical tests, thereby boosting operational efficiency," Ahlfeld explained. "By combining engineering expertise, acoustic data and Monolith AI software, Kautex engineers can instantly and reliably predict the expected noise on new designs.
"Monolith's technology has the potential to streamline the process of impact testing for Kautex-Textron's electric vehicle battery pack casing, thereby reducing development costs and facilitating cost- and performance-competitive EV solutions to new markets around the world.
"This innovative application of machine learning allowed the visionary Kautex engineering team to significantly cut design time and testing costs, extensively streamlining what was a highly complicated process. The possibilities for applying AI technology to further use cases in their product design work is hugely exciting for us, and we look forward to producing more excellent results for Kautex and our automotive OEM customers."
Booth 15036
VI-grade launches state-of-the-art, flexible HIL solution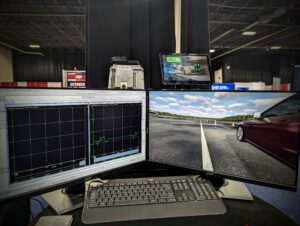 VI-grade is showcasing AutoHawk, its new hardware-in-the-loop (HIL) solution for automotive applications, which is now available for the first time in North America. Visitors can experience the solution live and in action at VI-grade's booth.
"I am pleased to introduce our new, flexible HIL platform AutoHawk to the North American market at Automotive Testing Expo in Novi," said Dean Streck, director for North America at VI-grade. "The HIL market is critical for driving innovation and allowing us to leverage our core competencies and experience in driving simulation and simulators. Our vision is to build an integrated, virtual test approach, with hardware-in-the-loop being an essential component of the development process. This will enable our customers to decrease the number of physical prototypes throughout the entire development cycle and to ultimately achieve virtual sign-off."
Streck introduced AutoHawk in a dedicated technical presentation at 1:30pm on October 26.
Booth 2036
National Instruments announces new test systems to ensure safer autonomous vehicles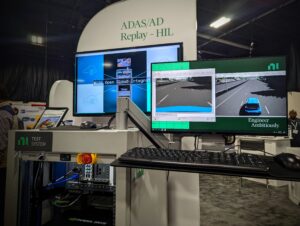 NI has used Automotive Testing Expo to announce the release of two new systems that will test various vehicle technologies to ensure that safe and reliable autonomous vehicles reach the market.
According to Brenda Vargas, senior solutions manager at NI, auto makers know that 5G deployment depends heavily on standard definition and refining, primarily by 3GPP. The release of 5G NR-V2X with SEA, a German product and system integration company providing test and measurement systems, can better support the testing of autonomous vehicle technologies.
In addition, the company has announced its latest ADAS and AD offering: a unified test system architecture that moves iteratively between data replay and hardware-in-the-loop (HIL) testing. "The NI Replay and HIL AD system can aggregate and inject real-world road test data or simulation scenarios to test ADAS ECUs," explained Vargas. "The company's unique approach ensures full validation test coverage for ADAS/AD functions, making existing data more usable throughout the entire product lifecycle."
Booth 15000