Vision Research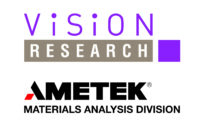 Vision Research manufactures a full line of on-board and off-board crash test cameras and provides an integrated system to maximize their effectiveness.
On-board solutions include the Phantom Miro R Series, including the R311, R321, and R341, the rugged Miro C210, and the very small Miro N5. These options provide a variety of resolutions, frame rates, and sizes to meet any crash test need.  All cameras can be controlled through the Miro Junction Box for ease of use and have batteries and flash memory to protect critical data.
Off-board solutions also rely on the Miro R321and R341, as well as the Phantom VEO 340, VEO 640 and VEO 4K. These cameras are tough yet flexible enough to produce highly detailed images at a variety of frame rates. They can either operate individually or together through the Miro Junction Box and may be equipped with batteries and flash for added data protection.
All cameras serving automotive crash testing applications benefit from the high image quality Phantom High-Speed cameras are known for. Vision Research also produces the fastest 1Mpx and 4Mpx cameras in the industry with its Ultrahigh-speed Series, as well as the Phantom Flex 4K with image quality good enough to be regularly used in media.