Force Control Industries, Inc.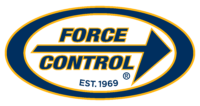 Headquartered in Fairfield, Ohio, Force Control Industries, Inc. is the world leader in Oil Shear Technology. For over 50 years they have provided American-made Oil Shear clutches and brakes. This unique technology uses a film of transmission fluid between alternating friction discs and drive plates of a mechanical, multi-disc friction brake. As the discs and plates are brought together, squeezing the fluid film, hydroviscous shear is initiated. This transmits torque through the fluid through laminar flow. Because there is no direct contact between discs and plates there is no wear. This allows Oil Shear products to last significantly longer than dry friction brakes with no adjustment or maintenance required. They provide very precise positioning and repeatability, even with high cycle counts (to 300 cycles/minute) – so they deliver the lowest cost per cycle.
Force Control Offers an à la Carte Approach to Dynamometer Systems. They can furnish complete test stands including frame fabrication, controls, data acquisition, and support, or they can provide specific load brake components for test engineers who prefer to build their own systems in-house. Load brakes can be supplied with a torque arm and load cell, cooling/filtration/actuation systems and data acquisition software as well as control valves, structures, and other ancillary components.
Force Control offers a full line of clutches, brakes, and clutch-brake combinations for OEMs in diverse applications across virtually all industries. Their manufacturing campus includes three manufacturing facilities with over 100,000 square feet of manufacturing space along with engineering, design, customer support and administrative offices. With representatives and distributors across the country and in-house Sales Engineers, Force Control can assist with product selection, sizing, and application engineering.
See for yourself why they are Built to Last and Guaranteed to Perform. Visit them online at www.ForceControl.com, contact them via email at sales@ForceControl.com, or call (513) 868-0900.