Force Control Industries, Inc.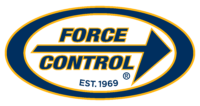 Force Control Industries, Inc. is a family owned company started in 1969 in Fairfield, OH. The company started designing and manufacturing oil shear clutch and brake products and received patents on the Posidyne® clutch brake.
New applications were serviced including the US Postal Office, lumber, steel, concrete products, snow making machinery, manufacturing of appliances, glass, automotive, food processing and material handling. The development continues today with many improvements and upgrades, new products, and new industries.
Throughout this time, the goal was always to provide the industry the best, most effective product available for the application. Today there are 1000's of Force Control products around the world running production 24 hours a day with minimal maintenance cost and very little downtime.
Force Control manufactures all of its products at its headquarters in Fairfield, Ohio close to all major transportation. The campus consists of 4 buildings, with over 100,000 square feet of manufacturing capacity. Ownership has been consistent in continually upgrading facilities and machinery for the most efficient manufacturing. Manufacturing and engineering work closely together to design products that can be most efficiently machined.
Force Control employees are a stable, tight knit group with an average tenure of over 15 years. Everyone contributes to product improvement, safety, and customer service.
Our continuing goal is to provide industry with durable, performance-designed products to keep production running.