The recent Geneva Motor Show provided the backdrop for the unveiling of Audi's first purely electrically powered model, the e-tron.
The new sporty SUV combines the space and comfort of a typical luxury car with a range suitable for everyday use, according to its maker. The prototype offers a preview of the first all-electric model from the brand. A camouflaged exterior conceals a sporty premium SUV with space for five people along with plenty of luggage – the space and comfort are similar to that of a typical Audi luxury class model.
The range, suitable for longer journeys, and the comprehensive charging options, enable customers to drive purely electrically without making compromises. The production version of the Audi e-tron prototype can fill up on electricity at fast-charging stations with up to 150kW charging capacity. The electrical quattro catapults the four-wheel drive into a new age and ensures strong performance on any terrain.
Around 250 development vehicles will undergo testing under extreme conditions worldwide before the start of series production, including test drives on four continents. Audi is testing the pre-series vehicles for customer-focused operation in all climate zones, ranging from below -20°C to above +50°C (-4°F to +122° F).
In addition, intensive tests of the charging technology are being conducted and individual charging standards are being tested on proving grounds and in public areas. The prototypes will cover more than 5,000,000km (3,106,856 miles) – roughly equivalent to 125 times around the earth and 85,000 hours on the road.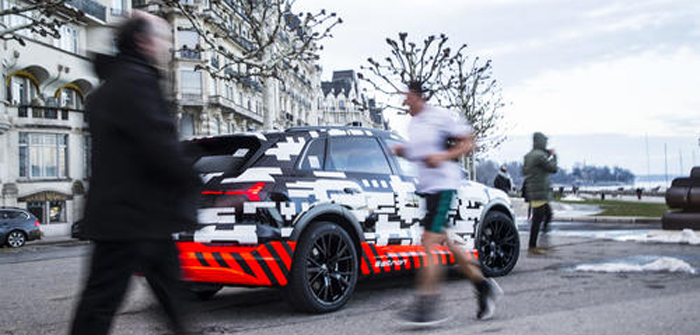 "Audi sets an important milestone for the company's future with its first purely electrically powered model," said Rupert Stadler, chairman of the board of management of Audi. "In 2020 we will have three all-electric vehicles in our product range, with a four-door Gran Turismo – the production version of the Audi e-tron Sportback concept – and a model in the compact segment joining the sporty SUV. We will be launching more than 20 electric cars and plug-in hybrids by 2025 – spread across all segments and concepts."
The production version is expected to launch on the European market at the end of 2018.