14,000 visitors create new record for Stuttgart Automotive Week at Stuttgart Messe
Automotive Testing Expo breaks new visitor record with over 9,000 visitors, plus record exhibitor numbers
The 20th edition of Automotive Testing Expo Europe saw more than 400 exhibitors take up over 10,000m2 (107,640ft2) of exhibition space across Halls 8 and 10, equating to 20% more floor space than any previous year, attracting the biggest audience yet. More than 9,000 visitors visited the Expo across the full three days of the 2018 edition of the event.
Automotive Testing Expo Europe was held alongside four complementary shows – Automotive Interiors Expo, Engine Expo Europe, Global Automotive Components and Suppliers Expo, and Autonomous Vehicle Technology World Expo, which all took place in adjoining halls at the Stuttgart Messe. More than 14,000 visitors made their way to Stuttgart Automotive Week, creating a new record – in all, some 800 companies showcased the next generation in automotive technologies and services.
And with the addition of two new free-to-attend Technology Demonstration Areas featuring 60+ speakers, and a glittering gala dinner, this year's Automotive Testing Expo Europe was undoubtedly the biggest and best yet, in every way!
"I feel really proud to be able to say that this is the 20th anniversary of Automotive Testing Expo Europe," remarked Tony Robinson, founder of both UKi Media & Events and Automotive Testing Expo Europe, during his speech at the gala dinner. "It has been a fantastic journey and we've come a long way since the show started. We've seen so many changes in the technologies that the exhibitors present here, especially with the advent of electric and hybrid vehicles, and connected and autonomous vehicles. It's grown into a marvellous event and I look forward to seeing what the next 20 years of Automotive Testing Expo Europe will bring."
Thus, the world's largest gathering of automotive test and development experts saw more brand-new, cutting-edge test, evaluation and quality engineering technologies launched than ever before, as well as numerous exciting projects and investments announced live on the show floor. These included an announcement by French exhibitor UTAC CERAM (Hall 8, stand 8353) of its plans for a brand new €25m (US$30m) future technology centre for the development and homologation testing of autonomous and connected vehicles.
Due to open by October/November 2018, the new proving ground will be located within the company's existing Autodrome de Linas-Montlhéry facility in Linas, France. It is being constructed by engineering firm Colas Île-de-France Normandie and will comprise 7.7km (4.8 miles) of new test tracks and associated facilities, including labs for NVH, EMC, powertrain, passive safety and endurance testing. Telecommunications companies Orange and Ericsson will provide equipment to connect the facility to the vehicles via 4G and 5G.
"There'll be five new tracks in total, including a 2km- (1.2 mile-) long, 3-lane highway circuit with multilingual signalling and a tunnel and tollbooth," revealed UTAC CERAM's marketing manager, Reinhard Wirtz. "We'll also have an urban zone consisting of fake buildings and crosswalks, lighting and traffic lights, roundabouts, a level railroad and an auto-parking area."
The other new tracks include a vehicle dynamics area with a 3,880m2 (41,760ft2) dynamic platform and street lighting for day and night-time testing of Euro NCAP targets; a parking zone with lot striping, barriers and blocks, flank guards and mobile obstacles for parallel and perpendicular parking angles; and a Euro NCAP AEB test area featuring two circular plates, a watering system and μ from 0.2 to 0.9.
Elsewhere on the show floor, FEV (Hall 10, 1218) shared details of its forthcoming test centre in Alsdorf, Germany. The new facility will be located next to existing FEV buildings and will enable the company to undertake emissions and range tests that meet the latest worldwide legal standards.
Measurement and test equipment includes a four-wheeled chassis dynamometer and the technology required to optimise conventional powertrains and to develop hybrid and electric vehicles. Furthermore, a 1,700m2 (18,300ft2) vehicle conditioning area will be divided into three different temperature ranges, from -30°C to 50°C (-22°F to 122°F). The overall building layout will also be optimised for roller and PEMS test operations and will allow for an additional test bench and solar simulation system to be added at a later date.
In addition, the expansion will involve doubling the parc fermé for test vehicles by an additional 200 spaces. There will also be charging stations for battery electric vehicles and off-vehicle charging of hybrid electric vehicles. "Further reduction of emissions and consumption is becoming increasingly important for our customers in light of current social discussions and regulation of future consumption targets," said Stefan Pischinger, president and CEO of FEV. "This investment at the Alsdorf location takes into account the development of clean and highly efficient drive systems."
Meanwhile, discussions at the Horiba MIRA stand (Hall 10, stand 1412) included details of its involvement in Midlands Future Mobility, a consortium led by industry and academic experts to develop a connected and autonomous vehicle (CAV) test environment on roads around the Midlands in the UK.
Led by Warwick Manufacturing Group and including AVL, Costain, Coventry University, Transport for West Midlands, University of Warwick and Wireless Infrastructure Group, the project is being funded by industry partners and Innovate UK as part of the wider Meridian Testbed UK initiative.
Horiba MIRA's role in the project – which will use more than 50 miles (80km) of urban roads around Coventry and Birmingham, featuring intersections, junctions and pedestrian controlled areas, for the development and evaluation of CAVs and related technologies and services – includes providing guidance on simulation and modelling. This involves selecting appropriate virtual test tools, development of guidance and case studies to support planning for CAV test cases, and developing driver-in-the-loop and testbed models to aide future CAV testbed trials.
"We have extensive experience delivering simulation-led guidance in CAV programmes and are pleased to be a part of the Midlands Future Mobility consortium providing this vital support," said Geoff Davis, chief strategy officer, Horiba MIRA. "This project forms an integral part of our long-term strategy to be a global leader in the development and testing of CAV technologies."
More news on the final day of the show came from Cruden (Hall 10, stand 1168), which announced that it is partnering with two new distributors in Asia. Hancom MDS and DynaFusion, which have exclusive rights to sell Cruden's range of automotive simulators in Korea and India, respectively, are both also distributors of dSpace hard real-time (HRT) systems commonly used by vehicle engineers in HIL testing.
As visitors to Automotive Testing Expo Europe 2018 discovered, Cruden recently developed a solution that makes the integration of a driving simulator with a dSpace-driven test rig more straightforward and less error-prone, by combining its open architecture Panthera simulator software with the dSpace ASM simulation tool suite for vehicle models, traffic and sensor simulation.
"Simulator technology is relatively new in the Korean market," said Dennis Marcus, commercial manager at Cruden. "Several companies in Korea have developed their own driving simulators, but they do not know how to integrate and use the system and as such are looking to gain an understanding of how European OEMs are using the technology."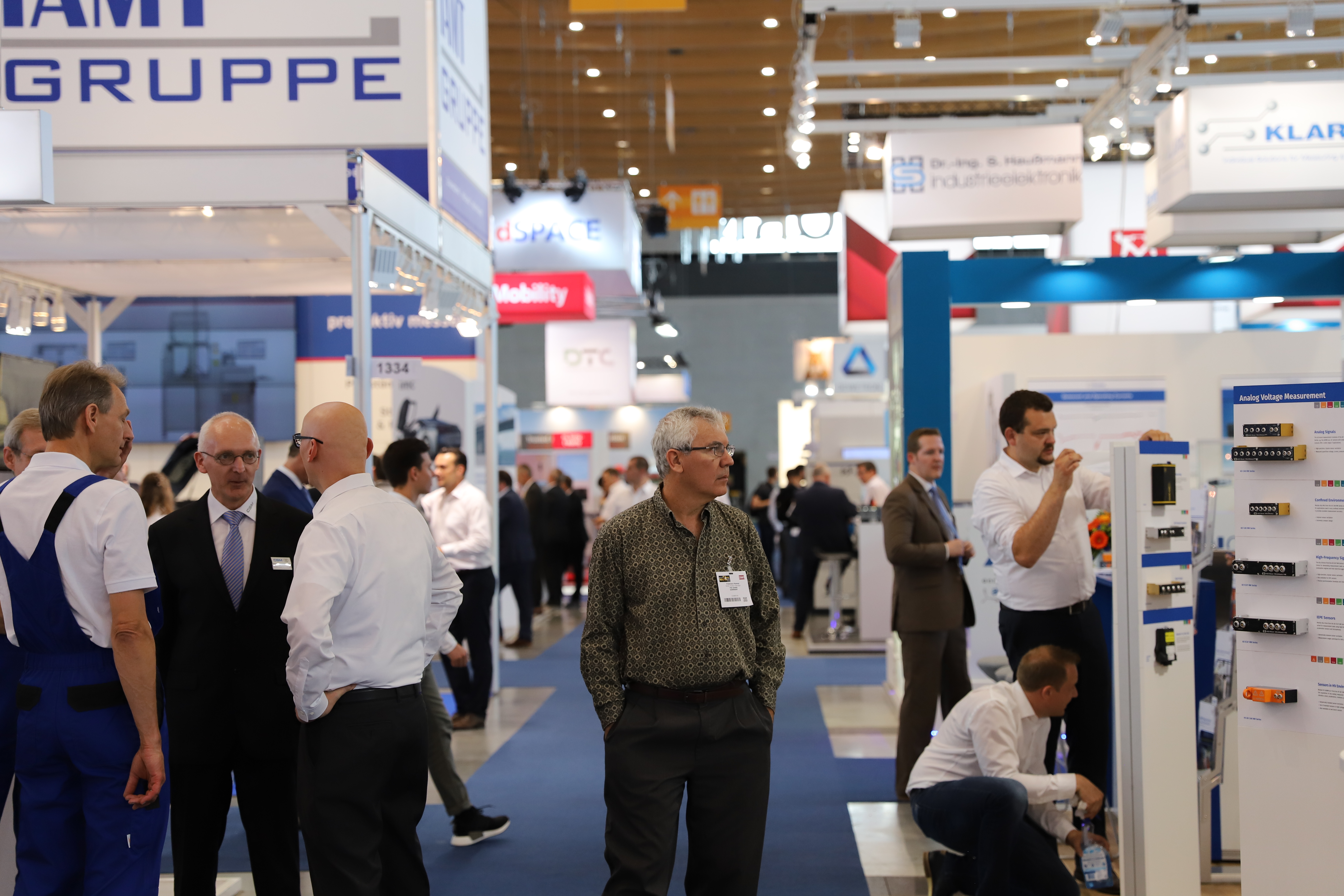 More feedback
At the end of the third and final day (Thursday, 7 June) of Automotive Testing Expo Europe 2018, attendees departed the Stuttgart Messe praising the wide range of technologies on display and the sheer number of exhibitors. Porsche engineer Daniel Koch said; "I didn't expect to see so many companies here! But I'm happy they were here because I've seen some excellent products that will give me and my colleagues something to think about when we get back to the office."
Likewise, Erik Hansson, test engineer at Volvo Cars, said: "It's an extremely valuable show and a great opportunity to see and talk to a lot of people. There's a lot of new and different technologies here."
Meanwhile, Jonas Jalar, CEO of exhibiting company Arctic Falls, said: "We've been thinking about exhibiting here again for a few years now and it looks like we picked a good year to come back. It's been a great show for us and we're happy to be here."
Finally, UTAC CERAM's marketing manager, Reinhard Wirtz, commented on the quality of the leads established at the show: "I've had conversations with some major OEMs, Tier 1s and startups that all look promising. There's been a really good mix of companies here and we have made better contacts than any previous year, so I'm very happy with this year's show. It's a very good place for our company to be. The gala dinner was also very impressive, an excellent event!"
Automotive Testing Expo Europe 2019 will take place from 21-23 May 2019, in Halls 7, 8, 9 and 10 of the Stuttgart Messe, Germany. Make sure to visit www.testing-expo.com to keep up to date with the information you need to start planning your trip!