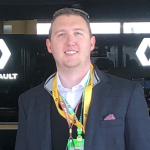 Chemical giant DuPont works across the gamut of industrial applications, including a significant presence in automotive. Carlo Fiorella, pictured left, is responsible for the development of new products for automotive and spoke to Automotive Testing Technology International about some of the areas in which the company is involved
') } else { console.log ('nompuad'); document.write('') } // -->
') } else if (width >= 425) { console.log ('largescreen'); document.write('') } else { console.log ('nompuad'); document.write('') } // -->
How much does DuPont allocate to research and development a year?
DuPont is committed to continuous innovation and investment in R&D to increase our customers' business impact and speed to market. We support our customers globally with 14 major R&D centers, where we explore and develop advanced solutions across multiple sectors, including automotive. In 2019 DuPont devoted close to US$1bn to R&D, with about 25% of sales coming from new products launched within the past five years, as a percentage of company net sales.
How does DuPont select which technologies and materials to investigate in its research and development?
Our team has a robust innovation pipeline that is aligned to important industry megatrends for demanding applications that are linked to future mobility. We are therefore developing integrated material science solutions that meet industry needs in lightweighting, battery pack components and assemblies, safety in thermal management, electric motors and powertrain, chassis and electronic applications for improved automation, and self-driving capabilities.
Can you give details of any current projects that you're working on?
One example of a current program is DuPont's multi-year technical partnership with Renault DP World F1 Team and Groupe Renault. We're working side-by-side to anticipate, research, develop and apply the latest in engineering and material science, to improve and enhance the sustainability, performance and safety of race cars on the track. We're also using Formula 1 as a testbed, a true 'laboratory on wheels', to see how these next-generation materials and technologies can filter from track to road and be used in the development of the ever-growing electric and hybrid vehicle market.
The automotive sector is changing at an unprecedented rate, with consumers and policymakers calling for newer, faster, more sustainable and more advanced vehicles – without compromising on performance or safety. This partnership with the F1 team allows us to showcase our deep experience and heritage in the automotive industry, along with our broad portfolio, to help shape the future of mobility. We are fast-tracking product development from the extreme environment of Formula 1 to the commercial electric vehicles of the not-too-distance future.
What are the latest revolutionary technologies/innovations in DuPont's field and how are these being applied in practice?
DuPont is a material science innovator. When presented with a challenge, we have the depth to look within our existing solutions as well as using our expertise to develop something totally out of the box that may have potential.
In terms of solutions that have transferred out of the extreme environments of Formula 1, our Nomex paper insulation can be found incorporated in an F1 car's advanced motor generator units as an effective electrical insulator, enabling the system to run hotter, faster and longer. On race day, this improves thermal efficiency and – crucially – reduces the risk of electric insulation problems. As a market leader in e-motor slot liner insulation, this is now used as the standard for passenger car electric motors, targeting ultra-high performance in the smallest, lightest and most reliable hybrid electric drivetrains.
Other key challenges for EVs are higher-energy-density batteries, smaller but more powerful e-motors and ultra-fast charging, which create thermal management challenges for both safety and efficiency. As a result, thermal management for battery modules is essential to safety and long service life. DuPont Betatech thermal interface material is a novel solution that helps control heat by maintaining thermal conductivity over a wide operating temperature range.
What are the key trends / challenges in the field?
As we see developments such as electric vehicles going from a small single digital percentage now to potentially being four of every five cars sold worldwide in 2050, speed to market and agility are more important now than ever to us as material scientists. To maintain market leadership, we need quick response times.
With our partnership with the F1 team, we benefit from rapid feedback and an agile way of working that F1 demands. An automotive test cycle is usually measured in years, not weeks, but we are able to test something in a matter of days. The partnership allows us to turn a solution or technology around, once it goes through the required testing and validation, in a matter of months versus a multi-year, multi-generation project.
How does DuPont work with its suppliers/partners?
We work closely with all our suppliers and partners across the automotive division of DuPont, functioning more as strategic partners to help customers solve challenges, rather than offering off-the-shelf solutions. We like to think outside the box and take learnings and solutions from one sector and apply them to another, which plays a key role in how we develop new materials for our partners.
We've introduced materials and products from the aerospace and defense industries into the automotive space. For example, 100% of all commercial aircrafts use Nomex honeycomb, but, as I've mentioned before, this same sheet structure can be used as a lightweight, flame-resistant, high-temperature-resistant protective layer for MGU-K and MGU-H components. While materials might be initially found in one industry, we work directly with our value chain partners and end users to develop solutions to their challenges across several sectors.